Innovation is part of our DNA at POSH.
We embrace it with the aim of improving the lives of our employees and crew, and as part of our growth strategy to cater to evolving needs of our customers globally. Last year, we successfully took part in several groundbreaking initiatives as part of our innovation roadmap.
A taste of the future: Shore-to-ship drone deliveries for food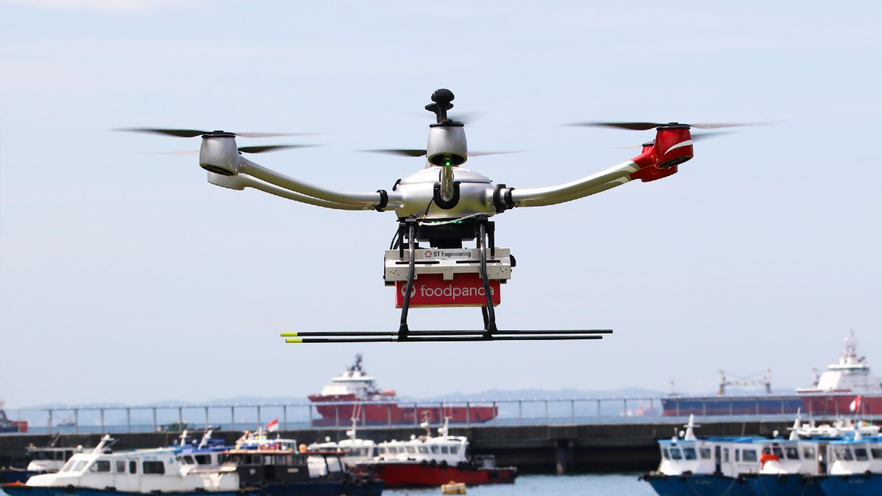 In August, we took to the skies with foodpanda and ST Engineering. Drones were deployed to deliver five packets of Ayam Penyet ("smashed" fried chicken) from Marina South Pier to our crew onboard POSH Bawean in under ten minutes. The exercise brought great joy to our crew as they got a taste of home and we all caught a glimpse into the possible reality of on-demand food delivery to vessels by drone.
Using drones for delivery, instead of launch boats, can reduce costs and make it possible to deliver items to less accessible locations - such as offshore vessels at sea. POSH is actively studying the usage of drones as part of our innovation roadmap, and we are glad to have been part of this ground-breaking flight.
Underwater robotics: A safer and faster way to conduct vessel inspections
In July, we successfully trialled the deployment of a customised underwater drone, or more commonly known as a Remotely Operated Vehicle ("ROV"), with Avetics Global for an inspection of the hull of POSH Bawean.
Underwater inspection of vessels is important for many reasons; but so is safety. Through the smart integration of robotics and software, these ROVs can support the initial stages of maintenance projects and identify potential issues without divers, making the process more efficient and safer.
SMAV: Laying the foundation for autonomous vessels
In April, we partnered with ST Engineering on sea trials of autonomous vessel technology on our harbour tug, POSH Harvest. As part of ST Engineering's Smart Maritime Autonomous Vessel (SMAV) project tests, we tested the vessel's ability for autonomous navigation, remote control and other technologies.
Trials were conducted in varying scenarios and at speeds up to 8.5 knots, while POSH Harvest was in autonomous waypoint navigation mode. Testing of the autonomous vessel technology was also performed onshore prior to the trials.
The collision prevention and autonomous waypoint navigation use artificial intelligence algorithms in line with IMO's international collision avoidance regulations (COLREGS) in overtaking, head-on and route crossing - meaning the vessel can detect hazards and change its route accordingly.
With such trials underway, fully operating a vessel without crew may become a reality. As with other autonomous applications, the goal next is to enhance operations in a safer, faster and more cost-effective manner. We are glad to be furthering these efforts that can break new ground for our sector.
The power of innovation and collaboration
While there is still much work to be done, these successful trials speak to the power of innovation and collaborations in driving sector transformation. Now more than ever, amid our challenging backdrop, innovation is essential and POSH will continue to explore with like-minded partners both within and beyond our sector to reimagine what is possible for our people, partners and customers.