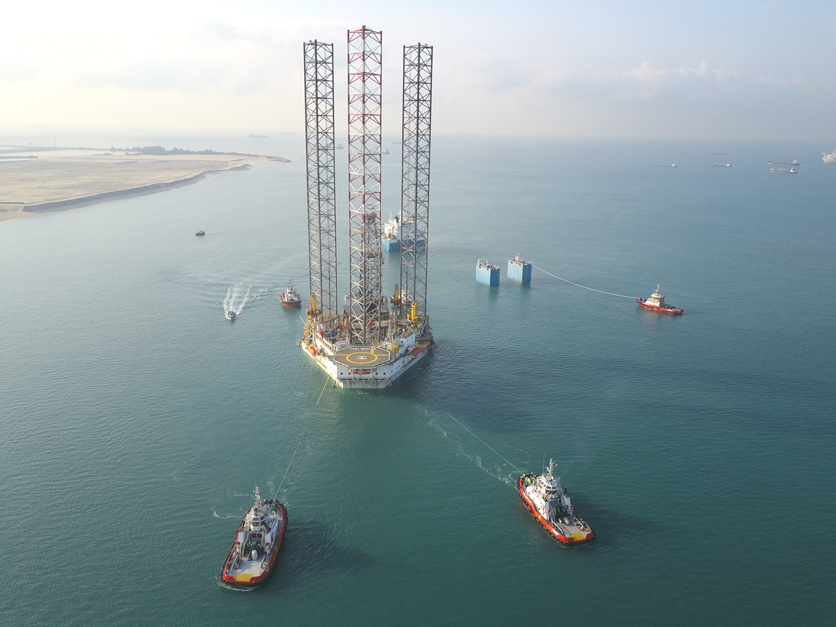 In January this year, POSH was engaged by China Oilfield Services Limited (COSL) to carry out harbour towage & float on-off operations within the Singapore Harbour. The towage involved two jack-up rigs, COSL Boss and COSL Seeker, which were reactivated from cold stack in Labuan, Malaysia for the preparation in Singapore shipyards prior to their respective forward charters.
As part of the engagement, POSH Terasea was awarded the contract for ocean towage of COSL Boss from Malaysia to Singapore before our Harbour Services Division took over. Four 4,000BHP harbour tugs, namely POSH Guardian, POSH Gentle, POSH Grace, and PW Berani, were used to transport COSL Boss within the Singapore harbour to Keppel FELS shipyard.
Just a month after the COSL BOSS project, COSL awarded another contract to POSH. This time, four harbour tugs were called to tow the COSL Seeker from Singapore anchorage to Sembcorp Marine Shipyard at Tuas Boulevard. Of the four harbour tugs involved, two were 5,000BHP (POSH Husky and POSH Hardy) while the other two were 4,000BHP (PW Benar and PW Berani).
These two projects challenged us in many ways due to their tight schedules. In particular, the COSL Seeker operation required absolute precision and perfect coordination between our harbour tugs and the tow master to prevent any collision between the jack-up rig and the heavy lift vessel's deck structure. By working closely with COSL, the Tow Masters, as well as the Marine Warranty Surveyor, both projects were swiftly and safely completed.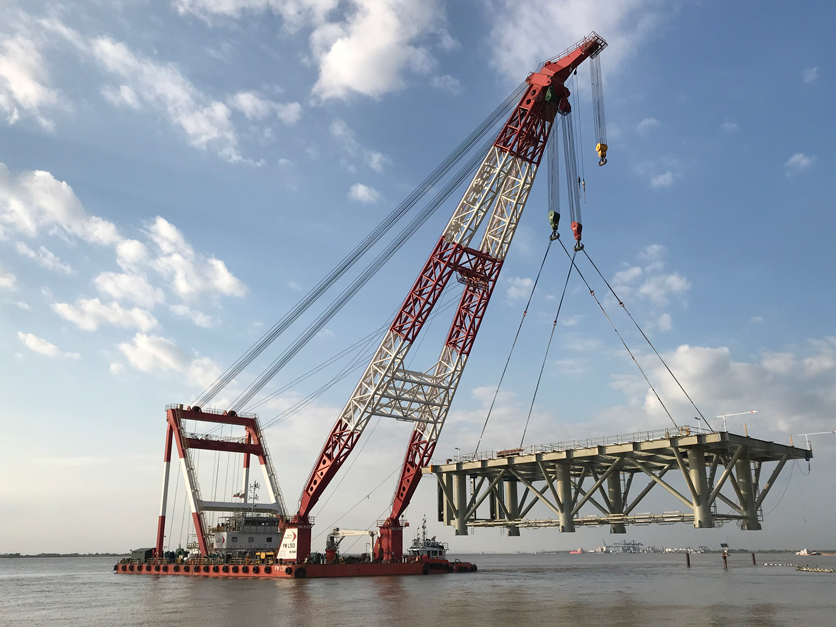 Earlier this year, POSH was appointed as the heavy lift services provider for the construction of a container terminal in the Port of Thilawa to meet the ever-growing demand at one of Myanmar's key logistics hubs. To start off, the 3,600 BHP PW Lambda was used to tow the floating sheerleg crane PW L501 to and from Myanmar to support the installation of 20 steel jetty platform modules, each weighing approximately 200 tonnes, onto pilings located near the shore.
Preparation for this project began five months ahead of the commencement date. Despite high scrutiny and time pressure from the main contractor, Toyo Construction, our team exceeded expectations and completed the project three weeks earlier than planned.
The professionalism and teamwork POSH demonstrated during these projects underline our commitment to service excellence. We are also pleased to be able to offer solutions across our diversified service portfolio, thereby providing a one-stop shop for our clients.